PATLive Serves as an Extension of Your Team with New Web and Mobile Apps
PATLive's team of U.S. virtual receptionists answer calls 24/7/365 for thousands of businesses nationwide, offering a wide range of services on calls such as call transfers, message taking, lead collection, appointment scheduling, order processing, event registrations, and more. And with PATLive's flexible approach to call handling instructions (and new web and mobile apps), businesses can customize exactly how their calls are answered.
With the number of people working remotely at never-before-seen highs, there is a tremendous demand for tools that help business owners work more flexibly from anywhere, and PATLive's new mobile and web apps do exactly this. With an all-new ability to instantly change how calls are being handled by simply changing a status and real-time push notifications that keep customers updated on every call, PATLive's new apps keep business owners informed and in control – no matter where they and their team are working from.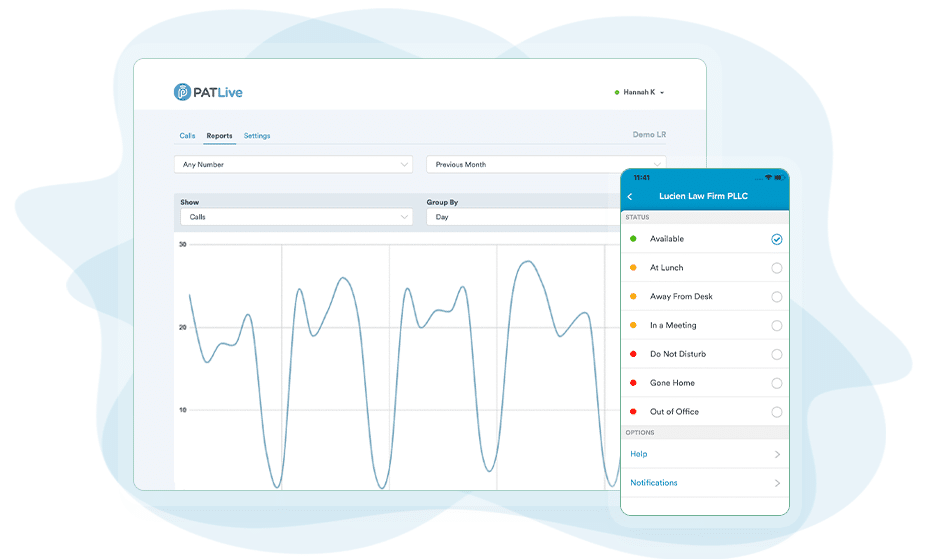 In addition, PATLive's new reporting features in the web app give business owners new options for analyzing call metrics, helping businesses spot trends and patterns and, ultimately, make more data-driven decisions about the calls they are receiving. And with the new REST API, customers can even download their call data in JSON format, so it's now possible to conduct advanced analyses of calls in third-party reporting suites.
"Our new web and mobile apps, and the statuses that they support, enable a level of real-time engagement with our customers that will allow us to provide a virtual receptionist experience that is surprisingly similar to the experience customers would have with an in-office receptionist, opening up new use cases and strengthening our value proposition across the board. In addition, at a more basic level but equally important, these apps satisfy one of the most frequent requests we receive from customers – the ability to receive their messages and leads in an app instead of by email," says Austin Davidson, CEO
PATLive's all-inclusive pricing includes live answer time, custom call handling instructions, and unlimited access to the new web and mobile apps. With the launch, PATLive customers will always be connected and in control with:
The ability to instantly change how receptionists are handling their calls with the flip of a status
Real-time updates on calls by email, text or push notifications in our web and mobile apps
Detailed call flow visualizations that show step by step what happened on each call
Easy-to-use charts and reports
---
To learn more about how PATLive's new web and mobile apps and API can benefit your business, call 800-775-7790 to speak with a sales associate anytime.