How to Drive More Phone Calls Using Your Law Firm's Website
The average day at a law practice is action-packed, so it can be easy to forget to continue optimizing your marketing efforts. There are, however, a few quick ways to make sure you're on the right track. If you're a law firm looking to grab a few new clients, you're in luck. We've outlined three steps for ramping up client intake from your website that are super simple, but easily overlooked.
First, your site has to get noticed by standing out among your competitors' sites. Once they're there, your site has to convince them to give you a call. Then, of course, you have to be prepared to promptly answer every call that comes your way to get the client.
1. Get Noticed
It goes without saying that if your firm can't be found from an online search, you're depriving yourself of the biggest opportunity for new business. However, 40% of law firms do not even have a website. Although word of mouth is undeniably powerful, it simply doesn't account for the scope of the all-encompassing Google search. Therefore, making sure search engines favor your firm is essential.
There are two main ways to accomplish this: Pay-per-click (PPC) advertising and search engine optimization (SEO). Though they're carried out in different ways and require different resources, both are proven to be effective.
PPC advertising involves paying for ad placement in SERP's (Search Engine Result Pages) based on keywords. You pay a small fee for each click on your ad, and easily expand your reach. Relatively little effort is required, and the potential for return is significant. PPC ads are a great option if you're looking for quick results, if you're looking to drive phone calls, and if you'd like to customize and control your reach.
You can find skilled and experienced search engine marketers to assist in setting up your campaigns on freelancing platforms like Upwork. Resources like SearchEngineLand.com provide a wealth of information on SEM, to help you get started.
SEO, on the other hand, is absolutely free, but it'll take some time to start seeing results. SEO involves a variety of strategies for making sure your site appears in search results – creating specialized content, marketing via social media, negotiating backlinks with other websites, etc. But everything tends to center around what Google refers to as "E-A-T" – Expertise, Authority, and Trustworthiness – the guidelines which are the basis for their algorithm.
Boiled down, these guidelines simply evaluate whether audiences can trust you, and allow search engines like Google to provide those users with the best possible experience by showing results that are current, relevant, and valid.
There are free tools that you can use to analyze your site's SEO viability, like Neil Patel's Ubersuggest, which allows you to get insight into competitors' strategies that are driving success, identify your top SEO pages, comb through hundreds of keyword suggestions, get original content ideas, and more. There are other paid tools that you may want to look into, like Moz and SEMRush.
Many small businesses and firms will purchase SEO tools on a temporary basis, even if just for a month, to identify and fix technical SEO issues and pull some reports, which can help their site recover from any algorithm penalties or gain more traction. If you've got time for some experimentation, SEO can bring your law firm to a new level of success.
2. Get The Call
Give them what they want…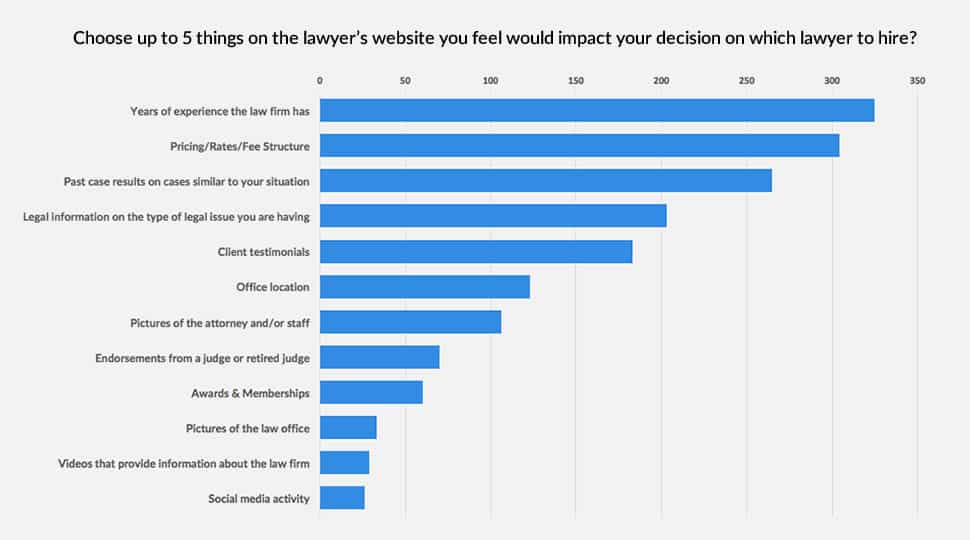 Driving traffic to your website is just the beginning. Once you've done so, the goal is to convince visitors to pick up their phone and call you by filling your site with the right content.
Exactly what information are visitors looking for when they get to your website? A study by iLawyerMarketing.com asked respondents to list five pieces of information that would most impact their decision to hire a lawyer, and here are the top listed responses:

This graph is an invaluable guide to knowing what influences a potential client's decision, a.k.a. the exact content that you need on your website. If you've got these bases covered, your potential client's questions are answered before they even have to ask them.
…
where
they want it.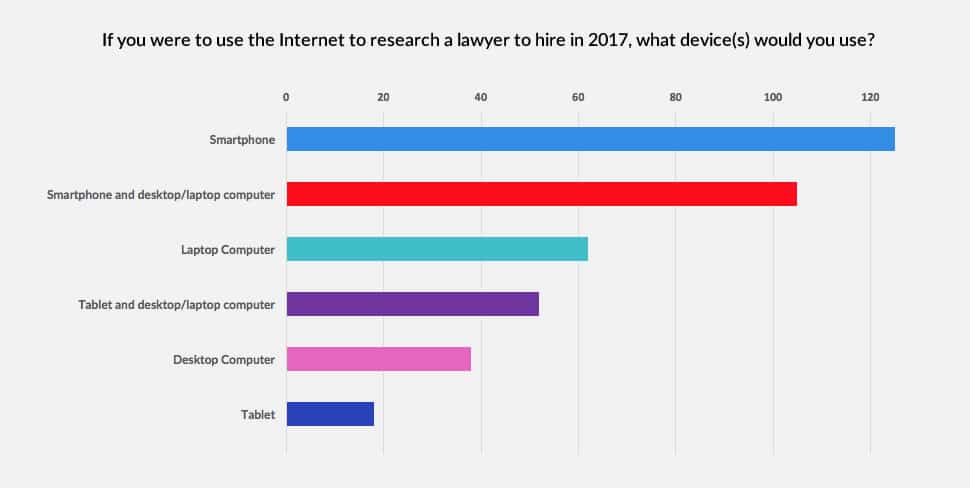 The same survey asked respondents what device(s) they're most likely to use when searching for a law firm.

An overwhelming amount of respondents use either JUST a smartphone, or a combination of smartphones and personal computers when searching for lawyers online.
What this means: your website has to run just as smoothly from a mobile device as it does from a personal computer. Remember, if they do get around to calling you, it'll likely be from the same device they used to find your website in the first place. When designing a mobile-friendly website, consider the following:
Responsive design: detects the user's screen size, and automatically adjusts the display accordingly
Font size: you should use at least 14px font for a mobile-friendly website to avoid making users have to zoom in to read the site's content
Button size: the bigger, the better to avoid the chance of accidentally pressing the wrong button
And please don't forget the phone number.
Having a phone number accessible during every step of interaction with your website is just about the most important thing you can do in this process. You want to provide a visitor with an effortless transition from browsing your website to speaking with you on the phone. There are a few ways to do this:
Providing a phone number directly from search engine results

Featuring all of your contact information within the header and footer of every page on your site

Adding a page to your website specifically for contact information, including a contact form where visitors can leave a message without having to leave your website to go to their email

A local phone number if you find that your clients prefer to work with a local firm

A toll-free number if you want to portray a larger or nationwide image
3. Get The Client
They've looked through your site, decided that you might be a good fit for them, and they're ready to call — there's even a decent chance they're ready to do business. Are your phones ready?
Answering every call promptly is imperative — it might be your only chance to gain a client. But you're busy — probably working on another case. If you or a receptionist personally answered every call that came in, you wouldn't get anything else done. Not to mention the calls that come in on nights or weekends, each of which are a missed opportunity if left unanswered. If you find yourself unable to answer all of your calls, a 24/7 legal answering service is a great option to help pick up the slack. Imagine the phone experience of an in-house receptionist, available at all hours at a fraction of the cost.
The answering services of yore deservedly got a bad reputation for outsourced call centers, untrained agents, and long wait times, none of which are traits anyone wants to be associated with their business. Thankfully, those times are behind us.
With the right legal answering service backing you up, you'll never miss another call. When considering your options, remember that they're not all created equal. Keep an eye out for these key features:
Availability 24/7

Receptionists based in the U.S.

Experience with law firms
---
Word of mouth is a wonderful thing, but with a majority of your audience searching for you via their smartphones, it's time to be more proactive. Having a website that's optimized for mobile, generously listing your phone number and other contact information, and providing a live voice to answer the calls are a few sure ways to acquire more clients.