Customer Journey Mapping: What It Is & How to Get Started
Customer journey mapping is gaining prevalence in the business world, especially within the realm of customer experience. Some CX experts might even say if your business hasn't taken the time to create a journey map, it can't properly serve its customers or anticipate their pain points.
While there are many ways to create an exceptional customer experience, journey mapping gives companies a deep dive into their customers' overall experience.
What is a customer journey map exactly?
The customer journey is the overall scope of the average customer's experiences with your brand, from the first touch to the moment they decide to move on to a competitor or no longer need the services. Why is it called a map? Once all of your data is boiled down to the key points, a map (or infographic) is created to give everyone in your business an easy-to-read overview of the customer's entire journey.
Who is doing it?
Any business that wants a better look at the entire customer journey and wants to create a more customer-centric business.
Why is it important?
If you want a strong grasp on what touchpoints your customer has with your brand, creating a customer journey map is essential. But there's more! Here are some of the advantages of mapping out your customer's experience.
Creating a cohesive experience for your customers across all channels.

Improving your customer satisfaction scores.

Promoting more customer loyalty, ultimately generating more business.

Placing all departments on the same page and helping to create cross-departmental harmony.

Highlighting customer pain points and eliminating inefficiencies.
What should my customer journey map include?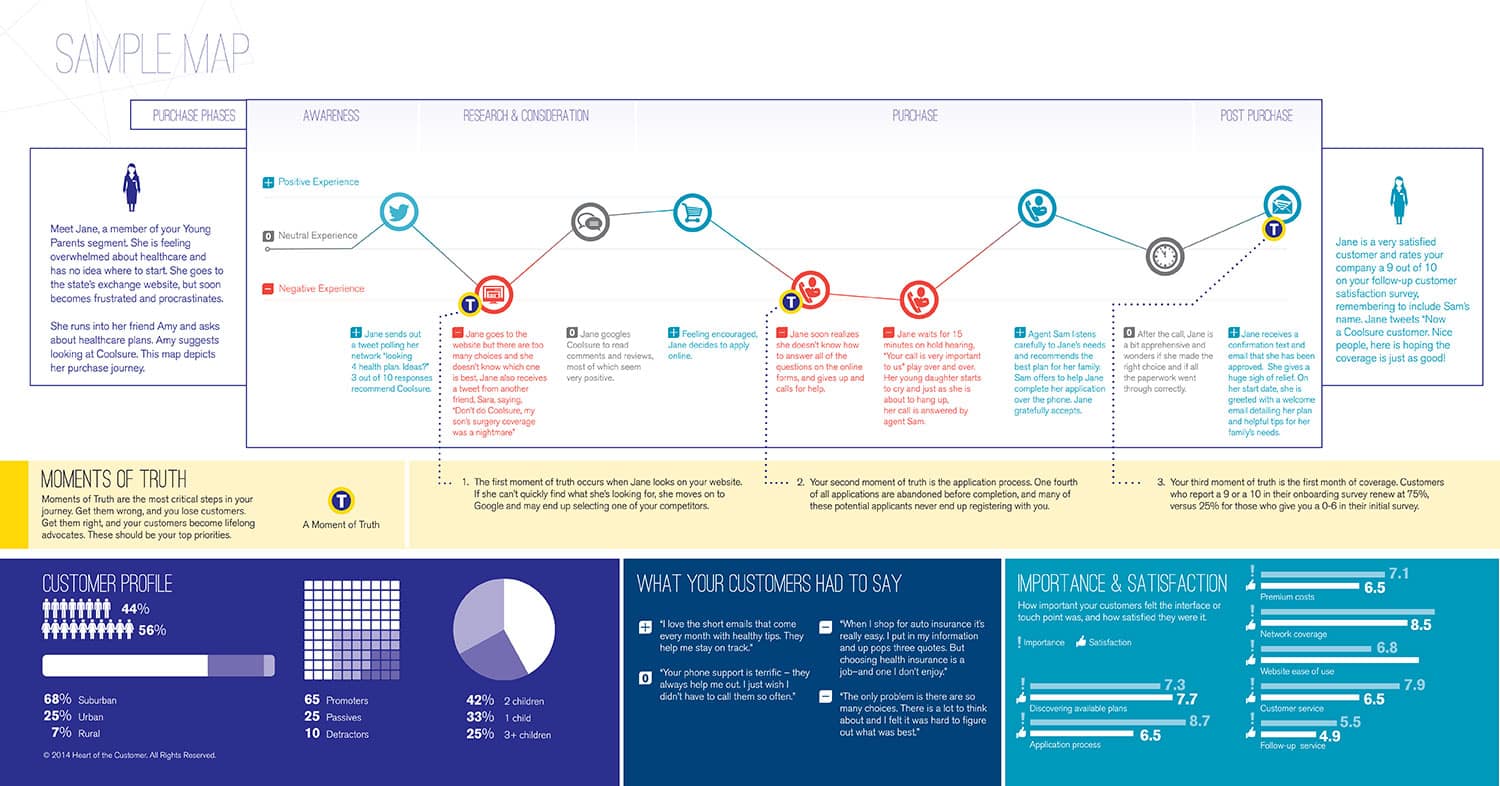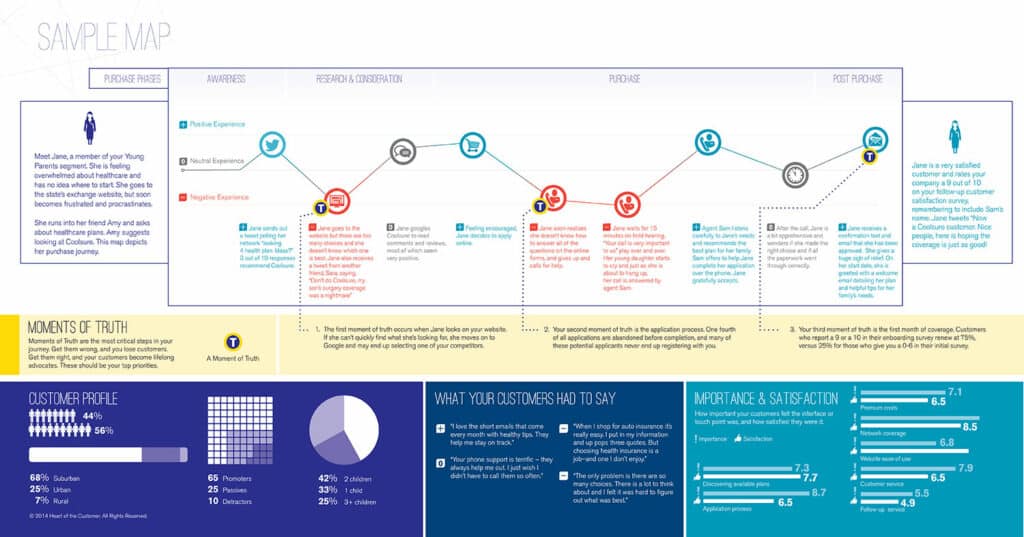 It's 100% dependent on your business, what touchpoints you make available to your network, and what you're looking to accomplish with your journey map. You could create one conclusive journey map with every touchpoint you offer, or you could create one solely for your customer support process. The important thing is to include every aspect of the journey you're mapping which will help you identify any pain points and other opportunities for improvement.
Below are some examples of customer journey maps from Heart of the Customer and Dapper Apps.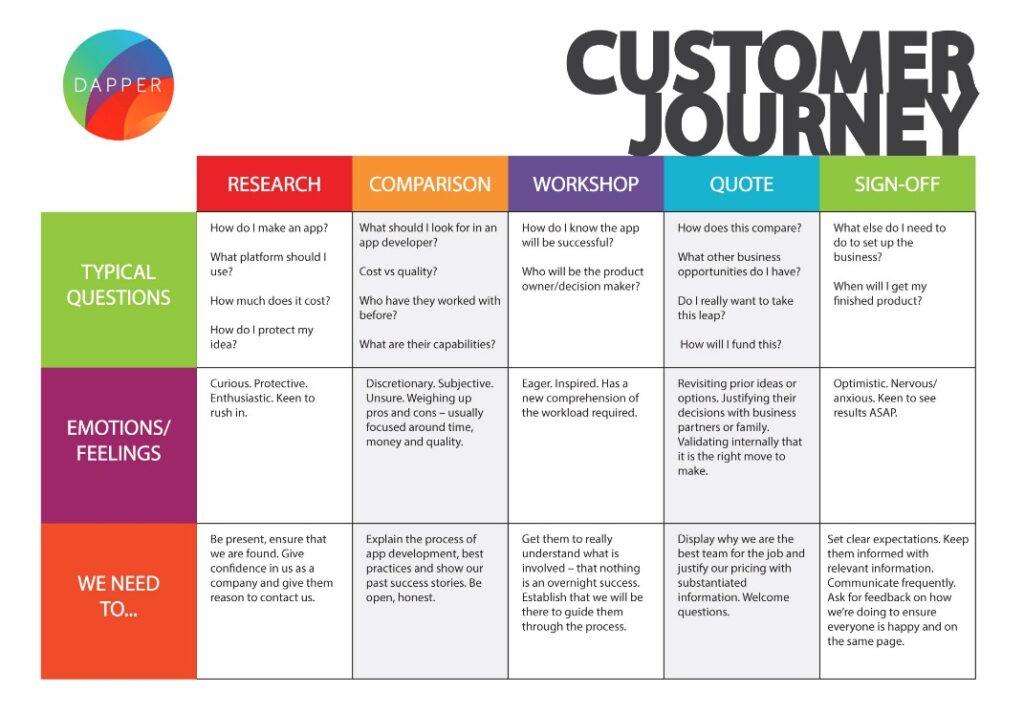 How do I get started?
Do Your Research
Let's say you're interested in the experience from your prospect's perspective. You'll want to research your company and contact the company for information via every channel available to your prospects.
Get Your Team Involved
Don from sales will almost certainly have a different outlook on your intake process than Janet from the customer support team. Identify stakeholders in each facet of your business and include them in the mapping process.
Map it Out
After gathering your data, you can map out the current state of your journey by listing every touchpoint. It doesn't have to be fancy, customer journey maps using pen and paper can produce results that are just as impactful as those in a "high design" digital format.
Analyze Your Journey
Maybe you notice a few holes in your lead nurturing process. Perhaps your new sales are having issues that could be solved with a better onboarding process. Or even more eye-opening, you notice your support queue is overflowing and you're losing hard-earned business. Whatever your findings, now you have what you need to make adjustments and become a top provider in your field.
Rinse and Repeat
Customer journey mapping is not a one-and-done process. Just as your business evolves, so does your customer journey. Regularly map your experience so it can scale with you as you grow.
---
The way your customers experience your business is paramount to your success. Focusing your attention on a great product and high service levels is a start, but your customer should be front of mind when you begin exploring every touchpoint they have with your brand.
Customer journey mapping is a great way to supply yourself and your team with a visual benchmark of the experience you're providing. By placing yourself in the user's shoes, you can gain new insight into your processes and identify opportunities to improve and grow your business.