A list of themed days – check. Tons of food – check. Lots of prizes – check.
We are all set. It's officially Customer Service Week and it's time to celebrate!

For those who don't know, Customer Service Week is a nationally recognized event celebrated annually on the first full week in October. If you're wondering why anyone would ever want to celebrate customer service for a day, let alone an entire week, let me explain.
Customer Service Week was established as a way to for organizations to place a strong emphasis on the importance of support staff and stellar service. The Customer Service Group, originators of this event, recommend using the week to…
Boost morale, motivation and teamwork.
Reward your frontline representatives.
Raise company-wide awareness of the importance of customer service.
Thanks other departments for their support.
Remind customers of your commitment to customer satisfaction.

Another reason why Customer Service Week is so great: it allows business owners to learn the latest on customer service best practices and revamp their strategy. I'm going to make it super easy for you to get up to speed on the latest industry standards.
The PATLive blog has covered all sorts of topics, but our favorite one is customer service. I've rounded up thirteen posts from our blog that are loaded with actionable tips for anyone looking to boost service levels and place the customer front-and-center.
Get informed and be inspired; check out the list below to start this year's Customer Service Week out with a bang.
Oct 03, 2016 - patlive.com -

16
You don't have to have a crazy huge budget to provide wow-level customer service. Here are seven tips that will help your boost your service today.
Oct 03, 2016 - patlive.com -

13
Because you can never get too much solid business advice, here are 16 of the freshest tips from our favorite customer service experts.
Oct 03, 2016 - patlive.com -

13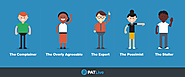 Our infographic will teach you about the five most difficult customer personalities and how to maneuver sticky situations ease.
Oct 03, 2016 - patlive.com -

13
Customer service should never be viewed as a perk. In part one, we share some tips that small businesses can use to create experiences that are crazy good.
Oct 03, 2016 - patlive.com -

10
Three major companies show us what not to do in customer service. Find out who made our list.
Oct 03, 2016 - patlive.com -

10
Anyone can open a grocery store, but George W. Jenkins had big ideas for his store. Learn why Publix has a long legacy of above and beyond customer service.
Oct 03, 2016 - patlive.com -

14
Hiring a customer service team is not easy, but it's doable. Here are 10 personality types you need to avoid when hiring staff to manage your customers.
Oct 03, 2016 - patlive.com -

12
Based on the GIFs you choose, we can tell you if you're whiz kid when it comes to providing exceptional customer service. Take our quiz to see if we're right.
Oct 03, 2016 - patlive.com -

11
You need an antidote to avoid becoming a drooling, leg dragging customer service zombie. Here's how to create an engaging customer experience.
Oct 03, 2016 - patlive.com -

11
Twitter is one of the best business tools on the planet if you know who to follow. Here are 10 customer service influencers you need to follow now.
Oct 03, 2016 - patlive.com -

11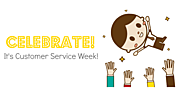 Celebrating your staff is an easy way to strengthen their connection with your business. Check out these 10 ways to celebrate customer service week and build morale!
Oct 03, 2016 - patlive.com -

10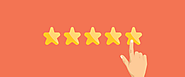 Not everyone can be a customer service expert, but it's important that all of your employees are practiced in these customer service skills. Read to find out why!
Oct 03, 2016 - patlive.com -

10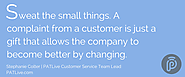 At PATLive, our expertise is 24/7, friendly and professional service. Here is some awesome customer service advice from our team.
What do you do to celebrate Customer Service Week? Please share with us in the comments – we love comments!